DESSALEGN WOLDEYESUSS AUTHORIZED ACCOUNTANT AND CONSULTING
DESSALEGN WOLDEYESUSS AUTHORIZED ACCOUNTANT AND CONSULTING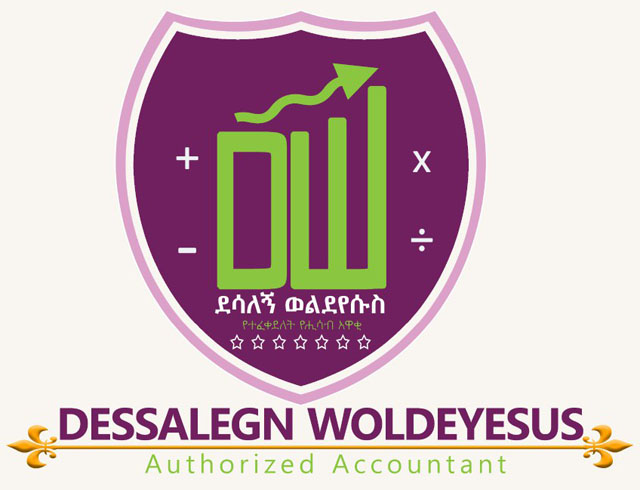 We are organized mainly to provide accounting, tax consulting and business advisory services including IFRS conversion. We are a team of Professional accountants with high level of academic backgrounds. Our intensive experience in the provision of the above-mentioned services gave us a high-end competitive advantage in supporting our valued clients.
MISSION
To put our professional support for the economy of our country by supporting our clients with an updated knowledge and help they proactively sustain the ever-increasing dynamics of business environments.
VISION
We intended to be a reliable service provider in business sectors to maximize their benefits through highly confident level.
VALUES
Surly provide honesty in Action!
Who we are
The company is operationally lead by Mr. Dessalegn W. Yesuss who is an Authorized Accountant (Certified Public Accountant-CPA) licensed by the Accounting and Auditing Board of Ethiopia by its Certificate of Professional Competence.
Products and Services
Contact Information
| | |
| --- | --- |
| Business Type | Sole Properietor |
| Mobile 1: | +251911311257 |
| Mobile 2: | +251911827012 |
| Telephone: | +251118633401 |
| Address: | Megegagna, Betelhem Plaza, 5th Floor, Office Number 509 |
| Location: | Addis Ababa, Ethiopia |
| Verified on | Jan 12, 2022 |
Contact form
You can use the following form to contact DESSALEGN WOLDEYESUSS AUTHORIZED ACCOUNTANT AND CONSULTING
DESSALEGN WOLDEYESUSS AUTHORIZED ACCOUNTANT AND CONSULTING is listed in the following categories
DESSALEGN WOLDEYESUSS AUTHORIZED ACCOUNTANT AND CONSULTING offers the following products and services
If you find a problem with this listing, please let us know by clicking this report link. እዚህ ድርጅት ገፅ ላይ ትክክል ያልሆነ ወይም መስተካከል ያለበት መረጃ ካገኙ ፤ ይህንን ማስፈንጠርያ ተጠቅመው ያሳውቁን።